Start with the free plans, upgrade as needed
All TurnKey Hub accounts start on the free plans for both cloud deployment and backup and migration.
No hidden costs. No setup fees. You can upgrade and downgrade at any time. Plan changes are even prorated!
There is no markup on Amazon usage fees. You will be charged the standard usage fees directly by Amazon for EC2 cloud server usage and S3 backup storage.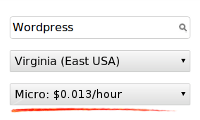 EC2 server usage fees
Starting at $0.02/hour for a cloud server with 613 MB RAM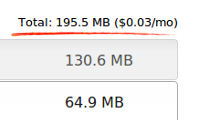 S3 backup storage fees
Only $0.03/GB per month for ultra-durable cloud storage
"A simple way to get applications running fast, out of the box.
— Karl Walsh
"Been looking for something like TurnKey GNU/Linux for a while now.
— Don Sanderson
"Gobsmacked at the sheer effort that went into the Turnkey library.
— John Brown
1. TurnKey Cloud Servers: Plans and pricing for deployments on Amazon EC2
Plan
Price (?)
Support (?)
Servers (?)
Server Sizes (?)
Platinum
$320/month
Priority
Unlimited
Micro, Small, Medium, Large, X-Large, ...
Gold
$80/month
Email
Unlimited
Micro, Small, Medium, Large, X-Large, ...
Silver
$40/month
Email
Unlimited
Micro, Small, Medium, Large
Bronze
$20/month
Email
Unlimited
Micro, Small, Medium
Free
$0/month
Community
Unlimited
Micro
Check out the cloud tour for features.
Can I use the Hub with Amazon's free tier?
Yes. With the AWS free usage tier customers new to Amazon's cloud services automatically get 750 micro server hours per month free for up to a year. In a bid to get more users to try out their platform Amazon is giving away over $200 in value! For frequently asked questions regarding the free usage tier, see this page.
Can I reduce costs with reserved instances?
Yes. You can pay up to 76% less by purchasing reserved server capacity up-front. In exchange the hourly usage rate is heavily discounted and server capacity is guaranteed to be available when you need it.
Am I charged for running servers that I don't use?
Amazon doesn't monitor how you use the servers you run on their cloud service. You pay for the cloud resources you consume even if those resources are wasted, the same way you pay for the electric energy that keeps the lights on even when you are out of the room.
How do I track my cloud server usage?
The Hub tracks cloud server uptime and can send you a weekly or monthly e-mail summary. You can also download detailed usage logs from the Amazon Web Services website.
What if I use a server for less than an hour?
Server time is metered in hourly increments so you will still get charged for a full hour.
How do I estimate server costs in advance?
Amazon charges you for server time, storage and bandwidth, in proportion to usage. Full pricing details are listed on the AWS website. A handy calculator is also available.
Unlike traditional hosting plans, you only pay for what you use. Cloud usage patterns are limited only by your imagination. For example, running a single server for 24 hours costs the same as running 24 servers for one hour.
" Very cool stuff. The Hub is cloud deployment for human beings."
— Mark Russell
2. TurnKey Backup and Migration: Plans and pricing for backups on Amazon S3
Plan
Price (?)
Support (?)
Backups (?)
Storage costs
Business
$320/month
Priority
Unlimited
$0.03/GB per month
Standard
$10/month
Email
Unlimited
$0.03/GB per month
Free
$0/month
Community
1
$0.03/GB per month
Check out the backup tour for features.
How do I estimate backup costs in advance?
Before you backup a server you can run a dry-run simulation in the Webmin interface which reports how much data you have but storage costs are so low this is rarely worth worrying about.
A full server backup uploads just 10KB worth of compressed, encrypted storage for a freshly installed server, because TurnKey backups only keep track of the changes you care about - new data and server customizations.
I already use Amazon S3, what more do I need to sign up for?
The Hub will walk you the process of creating a minimum privileged IAM role for your encrypted backup storage.
What's the minimum Amazon will charge me?
There are no minimums. Amazon S3 is a true pay as you go service and they really will charge you just a few cents per month if that's all you use. For modest needs it's practically free.
" The ability to actually test my offsite backups is so appealing. It doesn't seem right to be able to do that for only $0.10. "
— Ryan J.