Rapidly explore and deploy 100+ ready-to-use server apps in the Amazon EC2 cloud. Only a browser required.
You asked us to make TurnKey even easier. We did. Deploying TurnKey on-demand in the cloud frees you from having to download of hundreds of MBs per appliance image, setup extra software and hardware for virtualization, or ask special favors from IT staff.
As the leading cloud platform Amazon EC2 is the obvious choice, but it can be hard to use, especially for new users. For example the default firewall closes everything, so you need to reconfigure it and know which ports to open, then race to change all the default passwords and install security updates. That's time consuming, stressful and error prone.
We developed the Hub to do for cloud deployment what TurnKey did for the best open source software: streamline and simplify without sacrificing security or power.
Cloud server pricing starts at just a few cents an hour, with no risk or commitments.
"Very cool stuff. It's cloud deployment for human beings.
— Mark Russell
"Thanks for continuing to make complicated stuff easier!
— Derek Schwartz
"This TurnKey cloud thing is uber cool!
— David Longley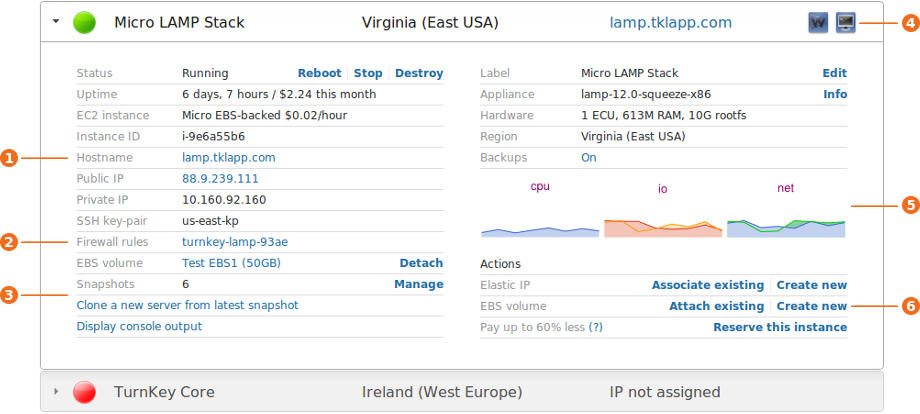 1Free DNS: the Hub provides a free dynamic DNS service. You can assign a hostname under your own custom domain or the free *.tklapp.com domain.
2Firewall rules: a link to the firewall policy for your server, which you can edit. It defaults to only allowing the ports your server uses.
3Server snapshots: save server state on demand or on an automatic schedule. New servers can be quickly cloned from any snapshot.
4Web interface links: provide quick access to the default web administration interfaces running on your server such as Webmin or Webshell.
5Free server monitoring: tracks and graphs CPU utilization, disk IO and network traffic. Click mini-graph to zoom in and navigate interactively.
6Advanced actions: this allows you to setup a static elastic IP, create and attach network attached storage volumes and reserve server capacity to cut costs.
Free CPU, IO and Net monitoring
The Hub makes it easy to keep tabs on the health and performance of your cloud server with free, streamlined server monitoring that just works.
The server dashboard continually updates graphs tracking CPU utilization, disk IO and network traffic for the past hour.
Want to check how you server was doing last night? Or last week? No problem. Click to pop open a larger interactive graph that lets you zoom in and out of performance stats on any timescale.
Schedule zero-load server snapshots
"Anything that can go wrong will go wrong" - Murphy's Law
Shit happens. Snapshots ask Amazon's fiber-optic storage backplane to save your server's disk state while it's running without impacting performance.
Since you can quickly clone new servers from snapshots this makes them the cloud server equivalent of a time machine crossed with a portal to a less obnoxious alternate dimension.
Free Dynamic DNS service
No more hassling with separate, poorly-integrated DNS management tools. The Hub provides free DNS configuration, powered by Amazon Route 53, a robust cloud DNS service.
Dynamic DNS configuration is supported, so you can assign hostnames on-the-fly to servers without fixed IPs using the web interface, command line tools or the Hub API.
Server launch - the basics
First, you select the type of TurnKey appliance to deploy from a searchable list. 100+ are available and fully documented on the TurnKey website.
TurnKey provides dynamic DNS configuration. You can assign a hostname under the free *.tklapp.com domain, or one of your own custom domains.
Micro server size = 613 MB RAM, 10 GB storage.
Server launch - root account
Experienced admins often prefer authenticating with SSH keys rather than root passwords because it provides excellent security while saving you the trouble of remembering yet another password.
If you leave the root password empty, your server assigns itself a secure random root password.
Server launch - application settings
For extra convenience and security, the Hub makes it easy to configure application settings before booting your new cloud server for the first time.
That means you're up and running faster and don't need to race to change all the default passwords after launch.
Automatic firewall configuration
Without the Hub, a common stumbling block when launching a new server is the need to set up an appropriate firewall policy, also known as a security group in Amazon cloud terminology.
Using the Hub that's all taken care of for you. When you launch a new server an appropriate firewall policy is automatically created.
The default is to only allow ports which are open in a fresh install of the type of appliance you launched. You can change the rules at any time.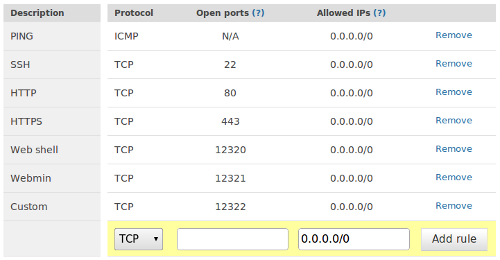 Programmable API and power tools
"Simple things should be simple, complex things should be possible" - Computer pioneer Alan Kay.
The Hub's web interface is designed to make simple things as easy as possible for the common user.
For more advanced uses, users need more power and control. Nothing provides that better than a programmable API and command line interface.
This allows development of apps like CloudTask, a parallel batch execution tool which leverages the Hub to spin cloud servers on-demand.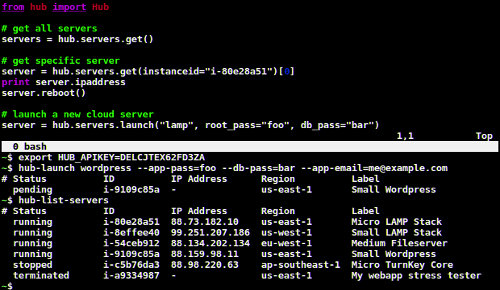 " The down-side of using Linux has always been the fairly steep learning curve. TurnKey GNU/Linux changes all of that. "
— Tad Harrison, Paper Jammed